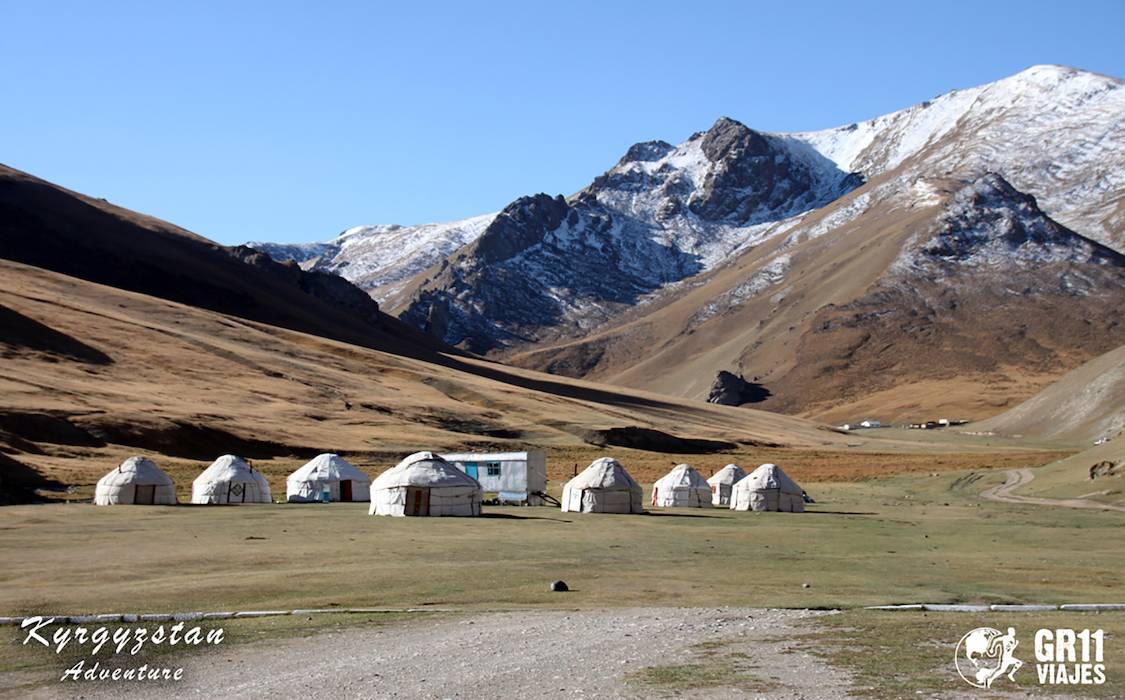 Full 1
Viaje a Kirguistán en moto
offroad – asfalto. ¡Pura aventura!

Kyrgyzstan Motorcycle Trip
Come with us to this Kyrgyzstan motorcycle tour, meticulously crafted to unveil the hidden treasures of this Central Asian gem. Discover the allure of its rich culture, its enthralling history, and witness the awe-inspiring beauty of its breathtaking scenery. Join us and discover Kyrgyzstan by motorcycle!
Explore Kyrgyzstan's emblematic corners on a motorbike, from ancient ruins in Burana to majestic peaks of Tian Shan Mountains. We will explore stunning alpine lakes such as Kel-Suu and Song-Kul, immersing ourselves in their natural beauty and enjoying the serenity of their shores. We will learn about the nomadic traditions of Kyrgyzstan, interacting with local communities and experiencing their unique hospitality. During the tour, we will cross spectacular gorges, valleys and marvel at the formations of the Skazka Canyon. The exquisite Kyrgyz cuisine will delight us while we immerse ourselves in the warmth of the local people.
In addition to exploring Kyrgyzstan, we will venture into Kazakhstan to discover the impressive Charyn Canyon, the Medeo area and the vibrant city of Almaty. This trip extension will allow us to immerse ourselves in the natural beauty and vibrant culture of Kazakhstan, complementing our Kyrgyzstan experience in an unforgettable way.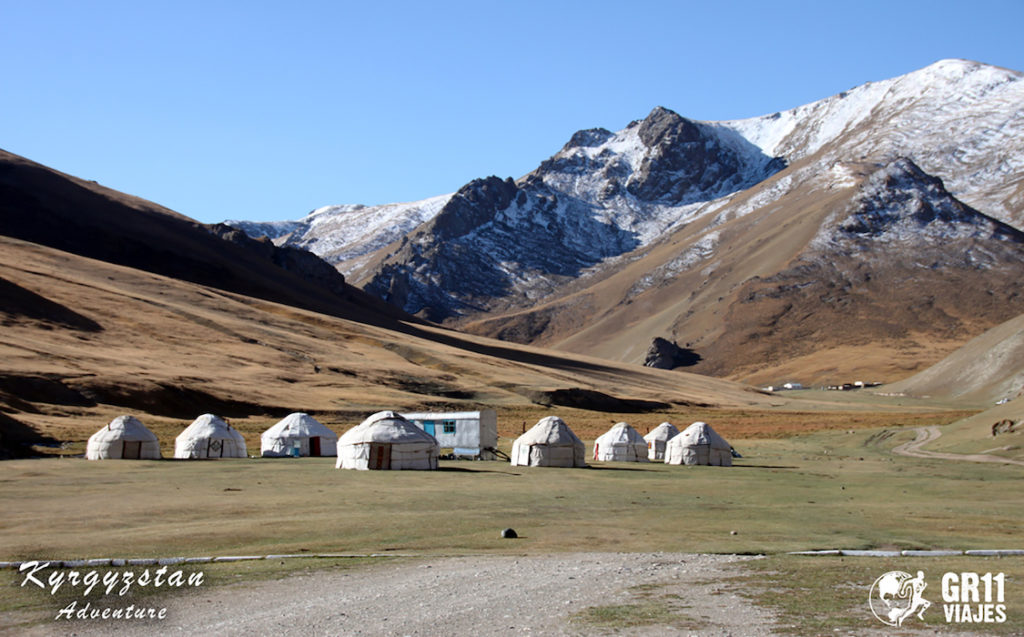 Base sign-up
2,250 € // Price as pilot
1.550 € // Price for accompanying person
300 € // Optional single supplement *.
Available motorcycles **
BMW F650GS (Blue, Dakar), BMW R1150GS Adventure, Honda XRV750 Africa Twin, Suzuki DR-Z 400S, Yamaha XT600E, Yamaha XT660R
* The single supplement can only be applied to hotels; in yurt camps, yurts must be shared due to limited availability. ** Prices are approximate and do not include extras (luggage, GPS, helmet, etc.) or deposit. Exact prices will be known in January 2024. Motorcycles will be assigned in order of request and registration. Availability will be informed at the time of registration.
Dates: July 14 to 24, 2024
Flights Europe -> Bishkek (round trip)
– Turkish Airlines: about 650 EUR(Turkish website)
– Pegasus Airlines: about 550 EUR(Pegasus website)
Prices are approximate, see latest rates
Are you interested in embarking on this trip in a 4×4 vehicle?
There is the possibility of accompanying the group aboard a rented 4×4 (you can drive the 4×4 yourself!). In case you are interested, please contact us to know the price of the 4×4 rental. Limited availability!
Kyrgyzstan motorcycle trip itinerary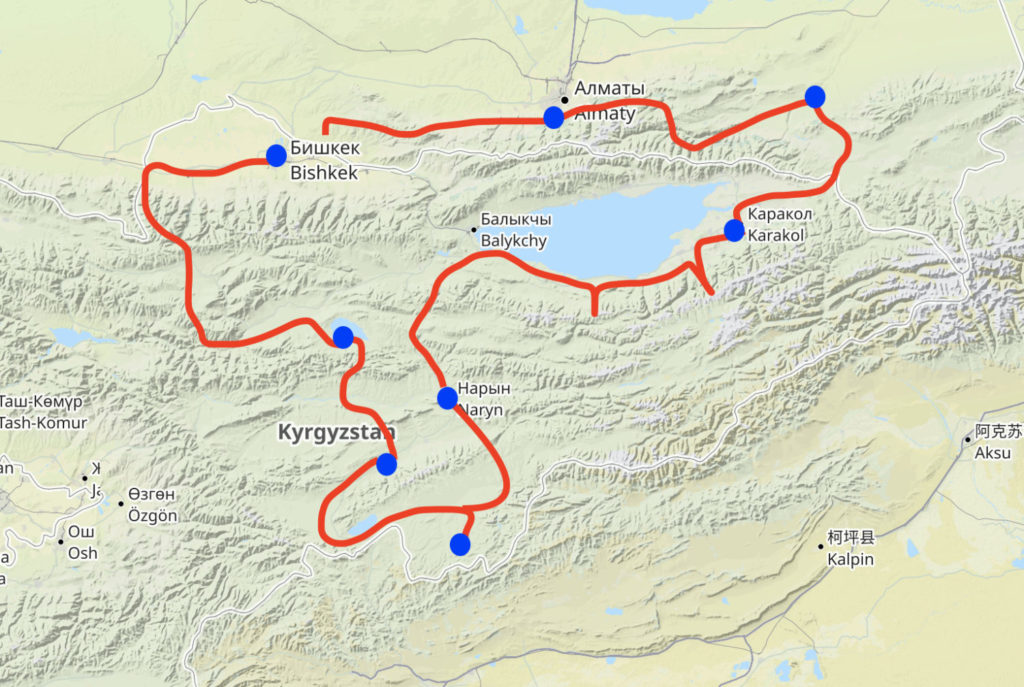 Día 1: Domingo. Llegada a Bishkek, Kirguistán
Transfer from the airport to the hotel to rest. In the afternoon, pick-up and preparation of the motorcycles for the next day's start of riding in Kyrgyzstan. Dinner at the hotel. Overnight at hotel with breakfast included.
Día 2: Lunes. Bishkek – Kyzyl Oy
In this first stage of the motorcycle trip through Kyrgyzstan, we will travel the route from Bishkek to Lake Son-Kul in Kyrgyzstan. We will admire the stunning landscapes, enjoy the winding roads, and discover charming local villages along the way. Overnight accommodation.
Día 3: Martes. Kyzyl Oy – Son-Kul
In this stage of the motorcycle journey through Kyrgyzstan, we will travel the route from Kyzyl Oy to Lake Son-Kul in Kyrgyzstan. Today, off-road will be more present as we ascend in altitude towards one of the most beautiful alpine lakes in Central Asia. Overnight stay in a yurt at Lake Son-Kul.
Día 4: Miércoles. Son Kul – Tash-Rabat
On this next motorcycle leg of the Kyrgyzstan trip, we will ride from Lake Son-Kul to the caravanserai of Tash Rabat. We will enjoy an exciting offroad ride through breathtaking scenery, with winding mountain tracks. We will ride through majestic mountain scenery, and immerse ourselves in history as we visit the caravansarai of Tash Rabat. Overnight in a shared yurt.
Día 5: Jueves. Tash Rabat – Kel Suu
From Tash-Rabat, we will head to the southernmost point of the country, to one of the most beautiful valleys that houses a stunning alpine lake: Kel-Suu. We will arrive at the yurt camp in the afternoon, and have the opportunity to visit the lake on horseback. Overnight stay in the yurt camp.
Día 6: Viernes. Kel Suu – Kochkor
We will continue our journey from the Kel-Suu Valley to the city of Naryn. We will head south to the city of Kochkor, where we can learn more about the traditions of Kyrgyzstan. Overnight stay in a hotel.
Día 7: Sábado. Kochkor – Karakol
In this stage, we will descend to Issyk-Kul Lake and drive along its southern shore. This lake is the second largest alpine lake in the world. We will admire its turquoise waters surrounded by imposing mountains. In addition, we will visit the captivating Skazka Canyon and the rock formations of Jetti Oguz. Afterwards, we will arrive in Karakol, where we will have time to explore the city. Overnight in hotel.
Día 8: Domingo. Karakol – Charyn Canyon (Kazajistán)
On this day's route, we will depart from Karakol and head towards the impressive Charyn Canyon in Kazakhstan. We will cross the border to enter this spectacular natural area, famous for its rock formations and canyons. Overnight in hotel.
Día 9: Lunes. Charyn Canyon – Almaty (Kazajistán)
On this new day of motorcycling in Kazakhstan, we will head towards Almaty, the former capital of the country and one of the most important cities in the region. Before, we will visit the famous Medeo sports complex. We will drive on scenic roads as we approach the vibrant city of Almaty. We will enjoy panoramic views of the mountains and, upon arrival in Almaty, we can explore its cultural attractions and immerse ourselves in its lively atmosphere. Overnight in hotel.
Día 10: Martes. Almaty (Kazajistán) – Bishkek (Kirguistán)
On the last day of our motorcycle tour through Kyrgyzstan and Kazakhstan, we will head from Almaty back to Bishkek, Kyrgyzstan. We will cross the border and approach the end point of our adventure. Once in Bishkek, we will deliver our motorcycles. Then, time to rest and reflect on the adventures experienced during this trip! Farewell dinner in a traditional restaurant. Overnight in hotel.
Día 11: Miércoles. Vuelo de regreso
Depending on the time of your return flight, transfer to the airport. End of our services.
Includes
Road Leader / Guía en moto.
Equipo organizativo de habla española, inglesa y rusa.
Vehículo de soporte durante todo el viaje.
Alojamientos con desayuno y cena en habitación doble (hoteles) o en yurta cuádruple (en yurt-camps).
Permisos gubernamentales para la región fronteriza con China.
Reportaje fotográfico del viaje.
Track GPS del viaje.
Obsequio.
Does NOT include
Vuelo España / Bishkek.
Alquiler de motocicleta / 4×4 (coste adicional según la opción elegida).
Combustible motocicleta (aprox. 125-150 EUR).
Almuerzos al mediodía y bebidas (aprox. 15 EUR/día).
Seguro obligatorio de viaje (contratación online aquí).
Visados Kirguistán / Kazajistán (no necesario para ciudadanos con pasaporte español).
Extras personales, propinas y cualquier concepto no especificado en el apartado de "Qué incluye".